Remote Video Kit | Remote Crew
Remote Crew
If there's one thing we pride most in Urban Samurai Creative, it's client satisfaction. In these abnormal times we live in, there are new factors that we need to consider in our clients' best interests. Health and safety, for one, is now a much more prevalent concern for video producers and clients as they think about how to develop a project. Merely merging outside social circles in any sort of gathering can be a cause for concern, but that, coupled with some basic necessities of productions like the lack of masks on talent, exchange of equipment between crew, and need for indoor shoots, means that despite adhering to industry-standard safety protocols, there is still an element of risk to in-person video production, however minor. We've seen how those fears have affected not only crew size for projects in general, but also the rate at which clients are willing to organize sets at all. Needless to say, convenience is harder to come by nowadays, and that has directly affected our clients' biggest concern: how to achieve the best looking footage with the least amount of crew. Thankfully, with our twelve years of customer-driven problem solving here at Urban Samurai, we feel we have a product that can address this concern and offer that quality service.
Introducing: The Remote Crew
Serving You Through Our Remote Video Kit
The Remote Crew is a rental package that comes fully equipped with everything you could need for a corporate interview, video stream, or panel discussion. Superb video, crisp audio, and 4k cinema camera quality (Raw recording and F1.7 lens), teleprompter, all available and easily prepared without the need for video knowledge or an onsite crew. We will do it all live and remotely! Simply plug in the power and ethernet (or an optional hotspot) and boot up the built-in computer. Our crew will dial in camera, audio and light, and direct the shoot or stream — all remotely and live. With some additions, you can film with multiple cameras, live green screen, live switching and post productions. The possibilities are endless!!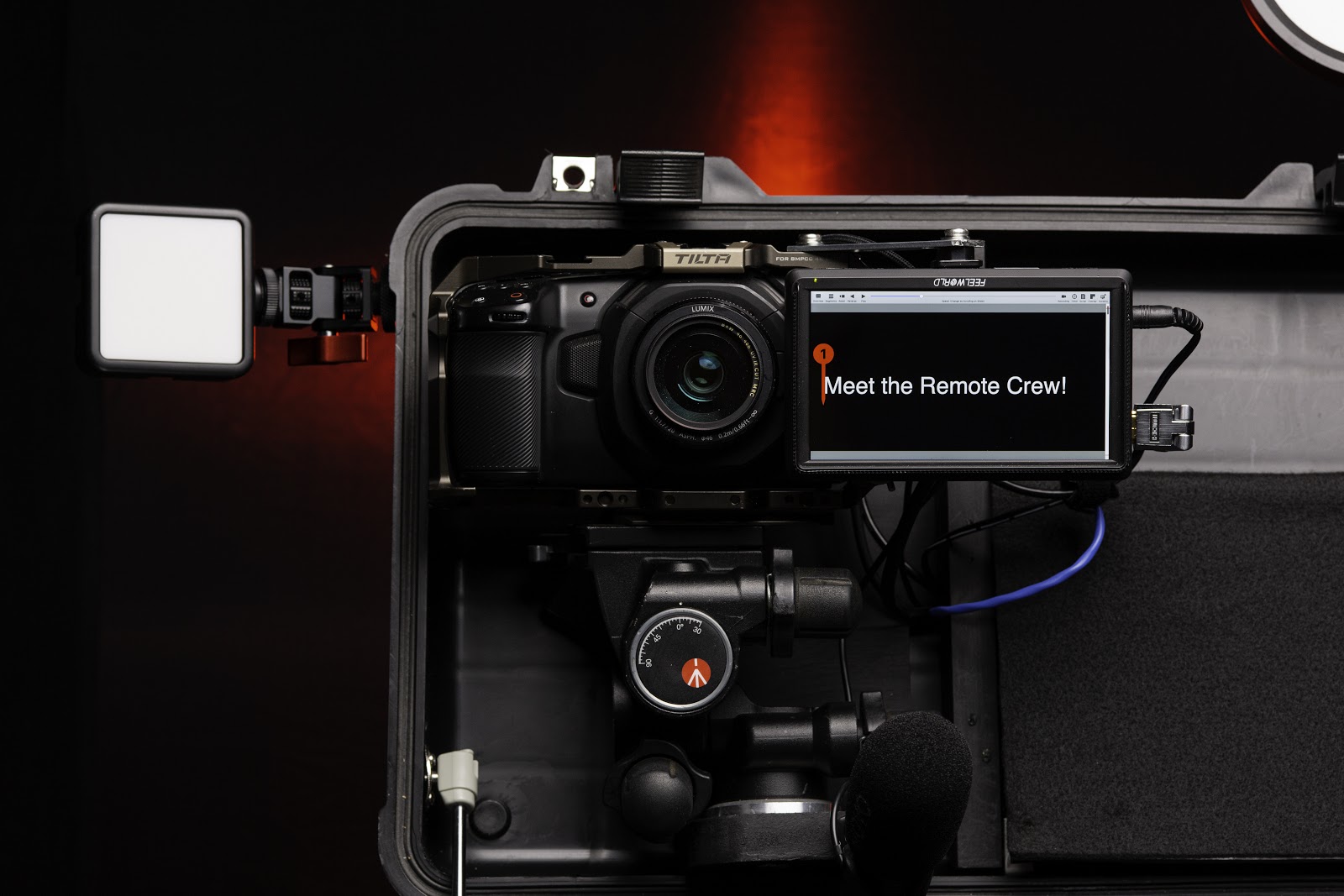 The Remote Crew serves as an easy fix to any concerns over social distancing or subpar webcam concessions. Ditch your compressed Zoom feed and pixelated computer camera in favor of a return to quality and convenience. With the Remote Crew, clients can rest assured that there are options to achieve their goals without having to put quality or safety at risk.
Do you think Remote Crew will help your next corporate video project?
Visit us at urbansamuraicreative.com or Contact us at info@urbansamuraicreative.com or (415) 320 8371
Our Remote Video Kit Recording Spec:
4K DCI (6K upgradable coming in 2021),
Blackmagic Raw,
Lumix 20mm F1.7 with IR cut and polarizing filter,
2 mics: lav mic and boundary mic,
backup recording 1080P H.264,
Box dimension: 20-1/4 in. x 11-3/8 in. x 5-11/16 just a 7 inch wider than MacBook Pro 15inch
weight: about 30lbs
---
---