Yosemite Firefall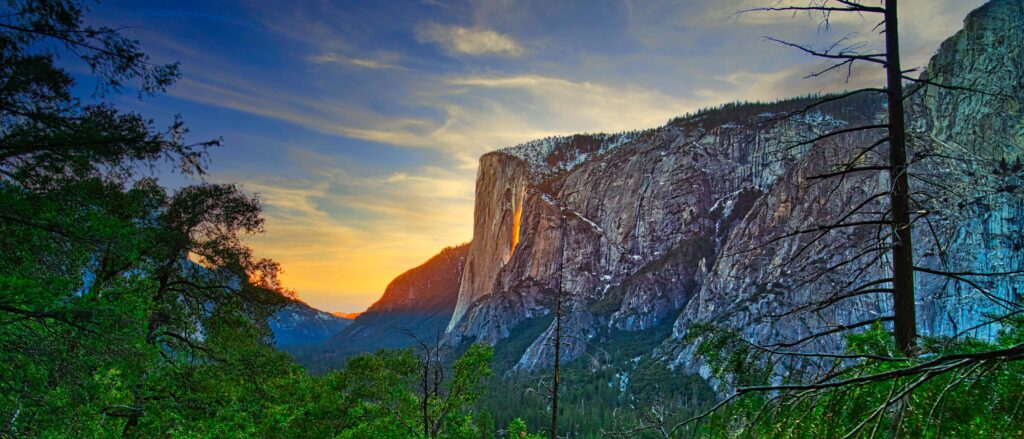 Each year thousands of photographers visit Yosemite National Park in hopes of seeing the famous "Fire Falls." Fire Falls is a natural phenomenon that only happens for a few weeks in the middle of February. The actual waterfall is called Horsetail Falls which is a seasonal waterfall that only flows after rain or as the snow melts above El Capitan. It's located on the east side of El Capitan and can be viewed from a number of locations.
A seasonal event known colloquially as the Yosemite Firefall is perhaps the most impressive natural phenomenon to occur in a National Park, but it is simply an illusion of light.During most of February, the sun's specific angle of descent causes the seasonally-occurring Horsetail Falls to become side-lit. The result of numerous conditions all aligning at once is a symphony of events that creates the illusion of a waterfall on fire!
Everyone always asks me how to capture this natural phenomenon. One thing I can tell you is to plan ahead and to be patient. Fire falls happen around Sunset, but you need to secure locations as early as possible. The National Park service now restricts the viewing spots, so there are only 2 locations to capture Fire Falls. If you get there after 2PM, you will not be able to find a good location to capture Fire Falls. You will be able to see it, but it will not be the best spot
You need to be patient and flexible. It is not guaranteed that you will see it. Here are two main factors about Fire Falls: water in Horsetail falls and clear sky on west. First, water needs to be running on Horsetail Falls. Second, Sunset can't be blocked. One year, I extended my stay for 3 days to capture Fire Falls, and there are a few years that I wasn't able to capture Fire Falls at all.
Now, here are when, where and how to capture it.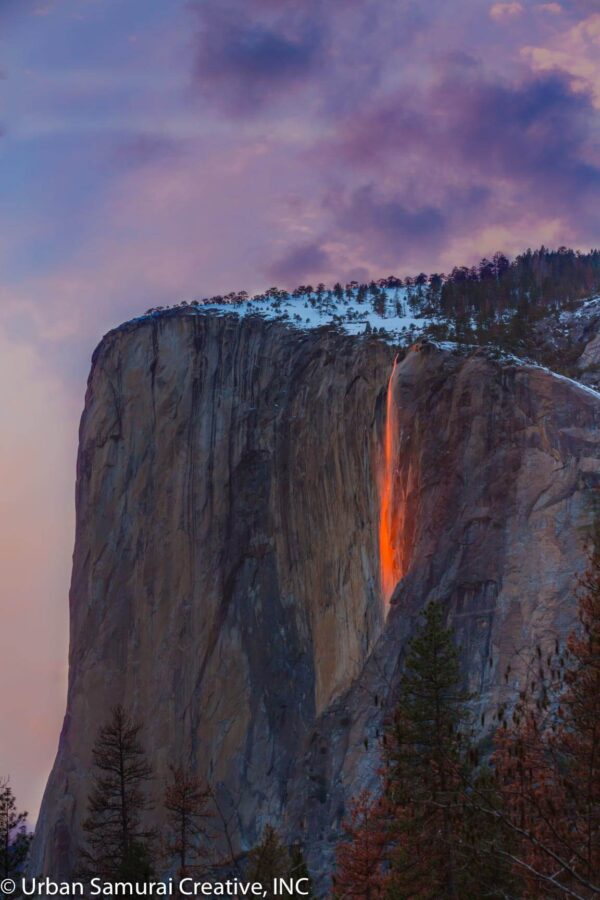 What time should I get there?
Most companies hire local video production agencies to create the videos that you need. However, picking the one that works for you is very important. Don't just
AS EARLY AS POSSIBLE. There is limited location to get Firefall clean, so you want to get there early to secure the spot. One time I got the best spot, I arrived and put on my tripod at 6AM. It is not necessary, but it depends on how bad you want to capture it.
Most people come in around 10AM. By noon, most of good spots are taken. In bright side, you won't need to worry about parking if you get there early.
Where to See/Photograph Horsetail Falls:
El Capitan picnic area (on Northside Drive). This is the most popular and most crowded view of Horsetail Falls. This is where Galen Rowell took his famous "Natural Firefall" photo. This location provides the closest view, but it's further east and a harsher angle and is better in late February (perhaps the last week of the Fire Falls as the sunset moves east). You can get some great photos from here but it is recommended to go further east during the early week of the Fire Falls and to hit this spot at a later week.
Four Mile Trail This is not so popular spot since you need to find the spot without trees by exploring. We found a few spots, but we hiked around for an hour to find a spot.
Tips for capturing Fire Falls:
Be Prepared: Don't wait till the last minute to set up a camera. Check cards and battery, and take test shots and check before it starts happening. Once Fire Falls start, it only lasts for 30min or so.
Absolutely NO FLASH/Strobe. One year, there was a tourist who wanted to capture Fire Falls, and she was using a strobe. We have to teach her how flash/strobe not only do anything but also can affect everyone else's photo.
NO AUTO exposure: Since it is sun glare on water fall, your overall image may be under exposed if you use auto exposure.
NO Auto Focus: autofocus technology is pretty amazing nowadays, but Fire Falls surrounded by granite walls with very strong sun set light; thus, it can mess with Auto focus. You can use it, but check your exposure.
---
---